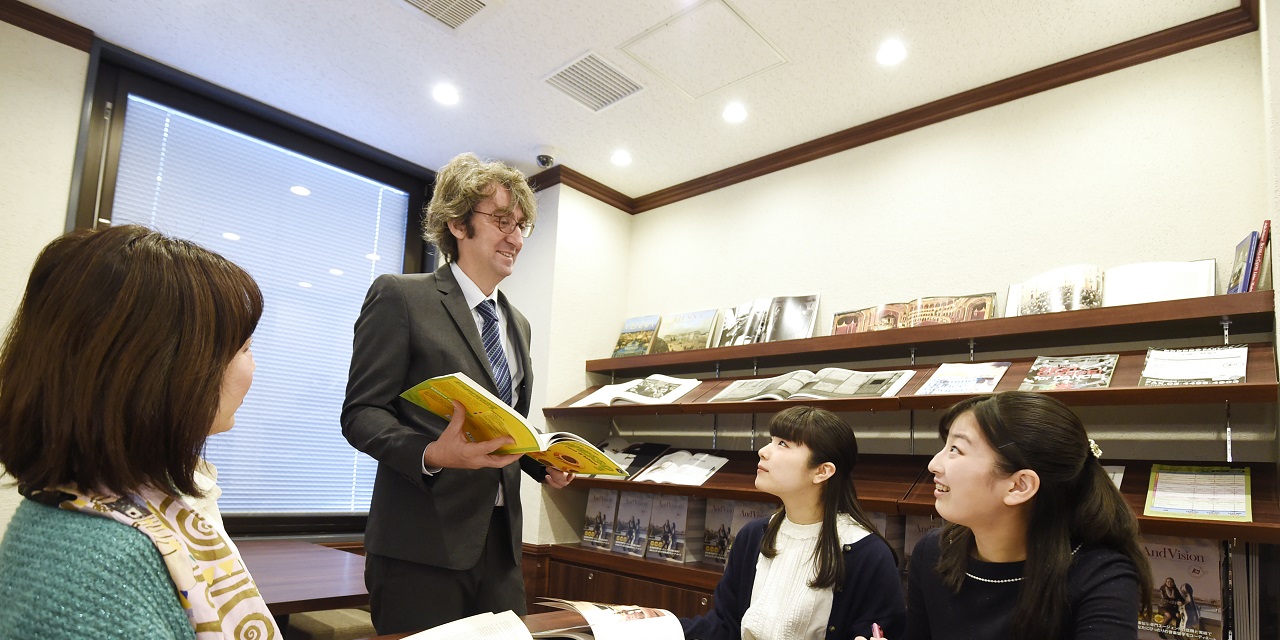 Daniel Rubinstein / Professor of the Royal Belgian Mons Conservatory / Violin & Viola Public Lesson (face-to-face)
Professor of the Royal Belgian Mons Conservatory to bring out the charm of strings / Wednesday, April 2022, 4
Violin & Viola public lesson by Professor Daniel Rubinstein, who also auditioned for the Master's and Bachelor's courses at the Royal Mons Conservatory.Especially recommended for those who want to study abroad!Of course, those who do not wish to study abroad are also welcome!
Professor Daniel Rubenstein is a genius who began to show his musical talent on the violin since he was a teenager. He has won numerous competitions, and already at the age of 10, Bell has co-starred with the Guy National Orchestra. He continued to perform with prominent orchestras such as the Irish Broadcasting Symphony Orchestra and the Flanders Symphony Orchestra. After graduating from the Royal Conservatory of Brussels in Belgium and Indiana University in the United States, he studied under Nicolas Chumachenco, a winner of the International Tchaikovsky Competition. He also attends the master class of Boris Belkin, who is famous for his "devilish" performances. Meanwhile, he learned viola from Atter Arad and won the Indiana University Competition in the United States. He has been invited to many music festivals in Europe, the Middle East, Japan and South Korea as a violinist and viola player, and has a huge repertoire of solo and chamber music. He is currently the music director of the Mozart Festival (Watellau) and teaches in the violin, viola and chamber music departments of the Royal Mons Conservatory. Violin and viola can be taught from baroque to contemporary music. He also has a good reputation for teaching string chamber music including piano and quintet from the string trio, and serves as a jury member of the Paris Ecole Normal Conservatory, a music university in Belgium. His music college exams and competition-focused lessons are also OK.
* He is also a professor at the Royal Conservatory of Music in Brussels, Belgium.
---
---
Professor Daniel Rubinstein of the Royal Belgian Conservatory of Music will hold a public lesson on violin and viola on April 2022, 4 (Wednesday), limited to a maximum of 13 students!

A maximum of 8 people can receive direct guidance from Professor Daniel Rubinstein from the And Vision Hall in Ochanomizu, Tokyo, or at your home (online attendance is also available).If you are thinking of studying abroad in a French-speaking country (Belgium or France) and studying abroad in violin or viola, you can get a foothold in studying abroad.The lessons of the professor of the Royal Mons Conservatory will be a guide when deciding where to study abroad.The professor is happy to share various music with Japanese people.Anyone, regardless of level, can take lessons.Especially for those who are thinking of studying abroad in Belgium (studying abroad in violin & viola), "preparing for competition auditions", "upgrading", "pure music lovers", etc.!Don't miss this opportunity!

If you haven't taken lessons yet, you can listen to them. There is so much you can learn by not only playing for yourself, but also watching other people's lessons. In fact, many students in Europe study through listening. It is also an opportunity to listen to the performances of many other people, and through the lessons of various people, you will be able to better understand the teaching method of the teacher. Musical instruments other than vocal music can also enjoy the atmosphere of overseas classes, so please feel free to join us. The teaching method of overseas professors is completely different from that of Japan. In particular, the main focus is to "enjoy and express music more", so the points to teach vary from student to student. Isn't it a big point for those who are aiming to study abroad or become a professional in the future to feel how the points of teaching are different from those in Japan? Even if you are not satisfied with Japan, it will be an opportunity to think about studying abroad.

If you are thinking of studying in Belgium, studying in France or studying in Europe, you can try studying abroad while you are in Japan.Consider the possibility of studying abroad in Europe.

It's a great chance to meet an overseas teacher while you are in Japan!
Just thinking does not open the door to your dreams. There is only action. Don't miss this opportunity!

◎ 2022 will be a special open lesson where you can try studying abroad in music!If you wish to take the test, the following conditions apply.


---
■ Admission to the Royal Mons Conservatory of Belgium Professor Daniel Rubinstein Class Special Entrance Examination (Applicants) ■
● Master Degree * Admission requirements: Bachelor's degree is required.
● Bachelor Degree * Admission requirements: High school graduation qualification is required.
* A minimum of 2 hours is required.In addition, we will record 4 exam songs (see below) during the lesson.Audition results will be announced at a later date.
* Normal admission procedures (submission of application, etc.) are required.Those who wish to enroll must separately subscribe to the "And Vision Study Abroad Support Pack".
▽ Examination song
1 classical song for violin and piano (eg 1 movement from Mozart's Violin Concerto)
・ Romantic or modern songs for violin and piano (optional)
・ Two movements from the violin solo song (two movements from Bach's violin solo song, or one movement from Bach's violin solo song, and one movement from Paganini, Rohde, and Wieniawski)
---
■ Voices of international students from the Royal Mons Conservatory ■
Chihiro Yamamoto (Graduated from Faculty of Music, Kyoto City University of Arts / Former member of Hyogo Performing Arts Center Orchestra / Currently Flanders Opera Orchestra Second Violin Player)
It is a lesson that respects the opinions and ideas of individual students and helps them to express them.Also, if there was something I didn't understand or didn't like, he thought with the students until I was logically convinced.It will teach you the basics that are indispensable as a performer, such as pitch, phrasing, and how to use your body.
---
■ Voices of students and listeners (partial excerpt) ■
■ Lesson students (Mr. A ・ Y)
I wondered if the lessons of the same song were so different.The content has never been pointed out, so I thought that if I could take such lessons all the time, I would be good at it.Children also concentrate more than usual lessons and feel that they receive them differently.Thank you very much. (Mother's impression)
It was a lot of fun. (Impressions of the students themselves)
■ Lesson students (Mr. E.S.)
Just when I started studying Brooke again, I wasn't prepared enough, but he was very kind and easy to understand.I haven't noticed it myself until now, and I am very grateful to have taught me many things in the limited time of one hour.When I go home and practice, I will remember what I was told today and study.Thank you very much.
■ Lesson students (Mr. NS)
I was nervous after a long lesson, but I am glad that I have a chance to teach. It was a short time of one hour, but I hope I can play with the image of Romanian dance atmosphere.
■ Lesson students (Y ・ T)
It was a lot of fun.I'm glad that the teacher I'm learning now told me what I didn't say.
---
■ Details of recruitment for violin and viola public lessons (face-to-face) ■
[Schedule] April 2022, 4 (Wednesday) 13: 10-00: 15
[Place] And Vision International Music School (AIMS, Tokyo / Ochanomizu)
    * You can also participate online from your home (attendance / listening)
[Songs] Free songs
[Capacity] Limited to 5 students / maximum
* A qualified interpreter is included for those who are not good at foreign languages!
* Counseling by a counselor is also possible!
* Participation only for attendance (online) is OK!
---
■ Qualifications ■
Anyone of any age or level can take this course if they are enthusiastic.
---
■ Price ■
▼ Attendance (face-to-face or online)
1 minutes each time: 60 yen (30,000 yen including tax)
▽ Option
Accompaniment fee (60 minutes): 10,000 yen (11,000 yen including tax)
▼ Attendance (visit / online)
1-day audit fee: 2,000 yen (2,200 yen including tax)
---
■ What is included in the price ■
▼ Take lessons
Private lesson fee, attendance fee, counseling fee, seminar fee, certificate of completion, facility usage fee and system usage fee
▼ Lesson attendance
Attendance fee, counseling fee, seminar fee
---
■ Clarify some of the items not included in the price ■
Piano accompaniment fee, practice room fee, all personal expenses during free time, etc.
---
■ Price / Schedule Supplement ■
● Online lessons may be changed due to the effects of the new corona infection.Even if it is held online, the cancellation policy will be in accordance with the terms and conditions.
● We may adjust the lesson time in advance.
---
■ Application deadline ■
Up to capacity
● Even before the application deadline, the deadline will be closed as soon as the capacity is reached.
● Even after the application deadline, you may be able to apply if there is a vacancy in the course, so please contact the And Vision Counselor.
---
■ Notes ■
● Please let us know the song at least 2 weeks in advance.In addition, please bring the score for the instructor on the day of the lesson (copy is possible).
● Lesson students are invited to attend the lectures with their friends and family.
● Attendance is possible all day long.
● If you need a piano accompaniment for public lessons, please prepare your own.It is also possible to prepare with and vision as an option.
● Please be assured that the student's name will not be published in writing in the public lesson.However, the teacher may call your name during the lesson.
● Public lessons will be an event sponsored by our company.Private lessons are recommended if you have any requests such as how to take lessons.
---
Please note that translations may not necessarily be accurate, as the translation is performed through an automatic translation service.The contents may also differ from the original Japanese website.We ask for your kind understanding in advance.