This summer, a Western musician teaches in [authentic style]
During the summer vacation week (7 days) from July to August, intensively in foreign languages ​​from Western musicians in Europe and the United States."Major skill" "Music theory" "Language"To learn.It is also ideal for those who want to concentrate on studying in a short period of time, or those who are thinking of rewinding the delay.It is possible to take only one subject, such as music theory only.
Because it's my favorite musicTo acquire "language" at the same time through "music"You can (level up).Please feel the growth after taking the course.
In the case of group lessons, leveling is checked in advance, so even beginners can participate with confidence.
* People who want to attend the recital with music as a pleasure in their lives are also welcome.It is fun!
* It is also possible to take classes online as a distant place or as an infection prevention measure.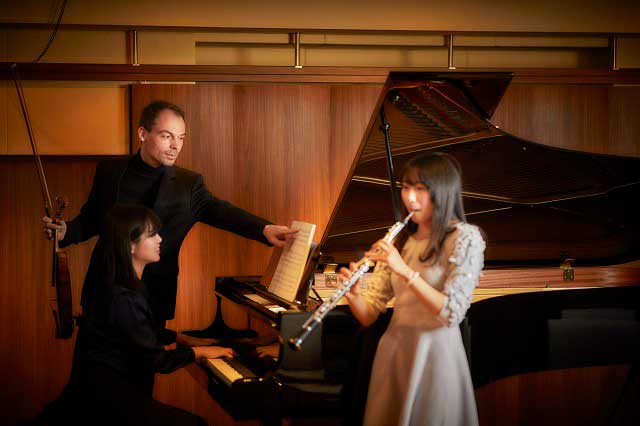 Recommended for
Those who are considering participating in music study abroad (long-term study abroad, short-term study abroad, overseas seminars, etc.) in the future
Those who want to experience overseas music lessons in a foreign language in Japan
Those who are interested in overseas seminars but have difficulty traveling immediately due to school or work reasons
Those who want to improve their foreign language level while learning their favorite music
As a hobby, I want to learn music as a culture from a real Western musician
As a pleasure in life, I want to learn music from a real teacher and enjoy music at recitals / concerts!
Somehow ... etc.
Voice of participants
All German lessons were very difficult at first because I didn't understand anything, but thanks to the teacher's careful teaching, I can now understand most of them.
(16-year-old female taking classical German)
It was hard for me to speak English every evening until the evening, but I didn't feel like speaking English.
(15-year-old man taking classical English)
In the practical lesson, I checked the scales that can be used for chord progressions one by one for each song, and learned how many variations there are.
(Jazz / Rock / English attendance 23-year-old man)
Schedule
[Phase 1] July 2023th (Monday) -July 7th (Friday), 24
[Phase 2] July 2023th (Monday) -July 7th (Friday), 31
[Phase 3] July 2023th (Monday) -July 8th (Friday), 7
[Phase 4] July 2023th (Monday) -July 8th (Friday), 14
[Phase 5] July 2023th (Monday) -July 8th (Friday), 21
Attendance place
[Face-to-face] And Vision International Music School
[Online] Home, etc.
* Up to schoolClick here for transportation access
lecturer
Japanese musician from Europe and America
* In order to improve the understanding of our customers, we may be a Japanese teacher who can teach in foreign languages, but we will contact you in advance.
Courses to be held
Major Practical skills / Music theory / Language
[Genre] Classical, jazz, rock, popular, etc.
[Major] All musical instruments, vocal music, vocals, composition, conducting, music production
[Language] Select one country from English, German, French, Italian, and Spanish.
Lesson content and number of times
[Major Practical Skills / Permanent Lecturer] 70 minutes / 5 times (private) / or 70 minutes / 7 times (group)
[Music theory] 70 minutes / 5 times (private) / or 70 minutes / 7 times (group)
[Language] 70 minutes / 10 times (private) / or 70 minutes / 14 times (group)


* In addition to the above, we are planning the first day orientation, counseling, concert rehearsal, completion concert (video distribution scheduled), etc.

* We recommend that you take all the courses to learn music and language in a foreign language.

* It is also possible to combine multiple languages ​​and multiple majors.

* Group lessons are offered when there are 3 or more people at the same level.
Daily schedule example
10: 00-11: 10 Language lessons
11: 20-12: 30 Language lessons
<Break>
13: 30-14: 40 Music theory lesson
14: 50-16: 00 Self-study time
16: 10-17: 20 Practical lesson

* The schedule is an example and subject to change.
* The schedule will be announced at the orientation on the first day.
* In principle, lesson time will be in the range of 10:00 to 19:00.
Level
Regardless of age, not only those who are aiming to study music, but also professionals, amateurs, and beginners can take this course.
Prices
Price list for more information.
Application deadline
[First deadline] Up to 4 weeks before the start date
[Second deadline] Up to 2 weeks before the start date
[Third deadline] If there is a vacancy, up to the capacity
Contact
phone:03-5577-4500
Email: info@andvision.net